It may be just my imagination, but it seems that every year there are more and more celebrations around L.A. for the Day of the Dead. I just did a small search around news outlets and social media and found at least 8 events happening this weekend and one that happened last weekend.
Traditionally, the Day of the Dead is celebrated Nov 1st and 2nd, the first day dedicated to the children who have left this realm and the second day for the dead adults. Here in Los Angeles, the first celebration of the Dia de los Muertos in the newly designed Grand Park downtown will happen today Nov. 2nd from 5:00pm to 11:00pm and it's a free event for all ages. There will be altars and art created by local artists like Lalo Alcaraz, food trucks, face painting and more.
Besides the Grand Park event, there's four other events today (that I know of). The one I've always heard of and went to once is the one at Self Help Graphics & Art's. This will be the 39th Annual Día de los Muertos Celebration, and claim this  is "the first in the country to create a free public celebration of Day of the Dead." From 5pm to 11pm @ 1300 East 1st Street, Los Angeles, CA 90033. Use the Goldline Metro (Pico/Aliso Stop) – No Parking On Site! Traditional Ceremonial Blessing • Food and Craft Vendors • Face Painting • Children's Workshop. Louie Cruz Beltran and His Latin Jazz Ensemble, Casa 0101, Cambalache, La Chamba Cumbia Chicha, Buyepongo, La Misa Negra (Oakland), Mujeres en Resistencia (San Diego), Thee Paramounts, Pio Pico M.S. Band, Radio Sombra. Calaca Attire Encouraged.
Traditional Procession 5 PM Gathering Northside Mariachi Plaza at 1st St. & Boyle. Use Metro Goldline, Mariachi Plaza Stop.
Al Borde has been creating a Dia de los Muertos Music & Art Festival at El Gallo Plaza for several years as well and this year will not be the exception. From 7pm to 11pm @ 4545 E. Cesar Chavez, East Los Angeles 90022.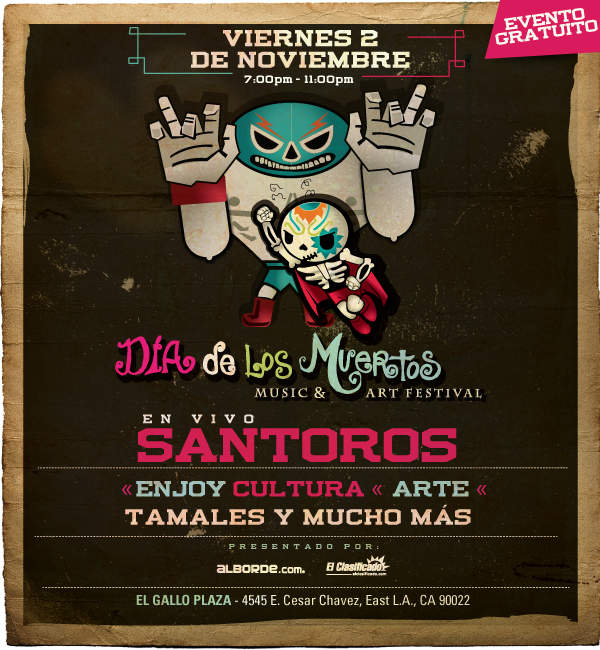 The 24th Street Theatre will have its 7th Annual Dia de los Muertos from 5pm to 10pm. The procession starts at Estrella Park to 24th Street Theatre, 1956 Estrella Ave., Los Angeles CA 90007 (Estrella Park is located off 23rd Street between Figueroa and Hoover).Look for the green signs. (5:00pm-5:30pm meet at Estrella Park and IDEPSCA will present a popular theatre piece) – (5:30pm-6:00pm) procession led by the Aztec Dance Group Huitzilopochtli from Estrella Park to 24th Street Theatre. Bring a flashlight. Music by Trio Ellas (Mariachi) y Andrea Zuniga, Dance by Aztec Dance Group Huitzilopochtli, Brazeros Dance Company, Colburn School- Folkloric Dance Company, and Tierra Blanca Dance Company. 24th Street Theatre: 1117 West 24th Street Los Angeles CA, 90007. For more information call 213.745.6516 or send us an email at: theatre@24thstreet.org | www.24thstreet.org
The Eastside Cafe will have a children's workshop, a procession and play also today from 2pm-10pm @ 5469 Huntington Drive North, Los Angeles 90032.
For tomorrow, Proyecto Jardin will host its own Dia de los Muertos event with local artisan vendors, Calaverita Contest, Danza Azteca, Storytelling, Community Altars, Herbal Medicine Demo, Cooking Demo, Tamales & Champurado. Musical performance by Thee Commons @ 1718 Bridge St. Boyle Heights, 90033 from 2pm-10pm All Ages and Free.
For a more club experience, the Dia de Nuestros Muertos at Robertos Club, 686 N. Spring St. Los Angeles, CA 90012 will have bands Zapoteca Roots, La Misa Negra, Blanca Sandoval, and Primo-All Stars $5 Micheladas – $3 Coronas from 9-11 pm *FREE B4 10 PM* Full Bar (Cash bar-ATM inside) Patio featuring: Vendors, Art&Photo expo.
Last Saturday at the Hollywood Forever Cemetery several bands like La Santa Cecilia and Ozomatli played at an elaborate pre-hispanic inspired stage full of cempasúchil (Mexican marigold  also known as flor de muerto (flower of the dead). It was a diverse crowd, dressed up with painted faces like catrinas and skulls to remember those who have passed away and enjoy some good music.
So that's the week's lineup of Dia de Muertos events, hope you get to enjoy one or two. I'm gonna try to make it to Proyecto Jardin tomorrow, see what my little one thinks of the Day of the Dead (I already know she loves Halloween, it's all that candy!).
-info from Al Borde and Whittier Daily News.